Posts for tag: tooth decay
By Dentistry on University
January 24, 2016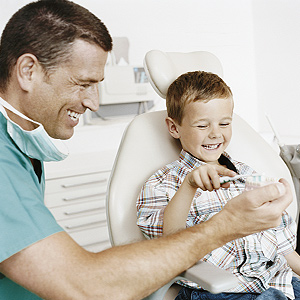 While the prevention and treatment of tooth decay has improved dramatically over the last half century, it continues to be a major health issue, especially for children. One in four children 5 and younger will develop some form of the disease.
Although tooth decay in children stems from the same causes as in adults — the presence of decay-causing bacteria in plaque, unprotected teeth and the right mix of carbohydrates like sugar left in the mouth — the means by which it occurs may be different. We even define tooth decay differently in children as Early Childhood Caries (ECC), "caries" the dental profession's term for tooth decay.
ECC highlights a number of cause factors specific to young children, such as: continuous use of a bottle or "sippy cup" filled with juice or other sweetened beverages; at-will breast-feeding throughout the night; use of a sweetened pacifier; or regular use of sugar-based oral medicine to treat chronic illness.
If you noticed sugar as a common denominator in these factors, you're right. As a primary food source for bacteria, refined sugar is a major trigger for the disease especially if it constantly resides in the mouth from constant snacking or sipping. In fact, it's the primary driver for a particular pattern of decay known as Baby Bottle Tooth Decay (BBTD). This pattern is specifically linked to sleep-time bottles filled with juice, milk, formula or other sweetened beverages, given to an infant or toddler to help soothe them through the night or during naps.
All these factors cause a cycle of decay. To interrupt that cycle, there are some things you as a parent should do: perform daily hygiene with your child to reduce decay-causing bacteria; reduce the amount and frequency of carbohydrates in the diet, particularly sugar; and protect the teeth by having us apply fluoride or sealants directly to the teeth.
Early tooth decay could affect your child's oral health for years to come. With a little care and vigilance, you improve your chances of avoiding that encounter.
If you would like more information on preventing tooth decay in children, please contact us or schedule an appointment for a consultation. You can also learn more about this topic by reading the Dear Doctor magazine article "Dentistry & Oral Health for Children."
By Dentistry on University
December 25, 2015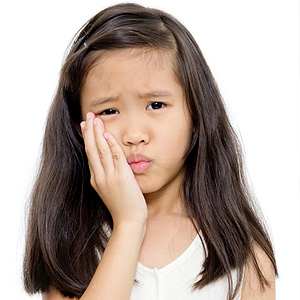 Even though a child's primary ("baby") teeth eventually give way, it's still important to treat them if they become decayed. Primary teeth serve as guides for the emerging permanent teeth — if they're lost prematurely, the permanent tooth may come in misaligned.
If the decay, however, affects the tooth's inner pulp, it poses complications. A similarly decayed adult tooth would be treated with a root canal in which all the pulp tissue, including nerve fibers and blood vessels, are removed before filling and sealing. Primary teeth, however, are more dependent on these nerves and blood vessels, and conventional filling materials can impede the tooth's natural loss process. It's better to use more conservative treatments with primary teeth depending on the degree of decay and how much of the pulp may be affected.
If the decay is near or just at the pulp, it's possible to use an indirect pulp treatment to remove as much of the softer decay as possible while leaving harder remnants in place: this will help keep the pulp from exposure. This is then followed with an antibacterial agent and a filling to seal the tooth.
If the pulp is partially exposed but doesn't appear infected, a technique called direct pulp capping could be used to cover or "cap" the exposed pulp with filling material, which creates a protective barrier against decay. If decay in a portion of the pulp is present, a pulpotomy can be performed to remove the infected pulp portion. It's important with a pulpotomy to minimize the spread of further infection by appropriately dressing the wound and sealing the tooth during and after the procedure.
A pulpectomy to completely remove pulp tissue may be necessary if in the worst case scenario the pulp is completely infected. While this closely resembles a traditional root canal treatment, we must use sealant material that can be absorbed by the body. Using other sealants could inhibit the natural process when the primary tooth's roots begin to dissolve (resorb) to allow it to eventually give way.
These all may seem like extraordinary efforts to save a tooth with such a short lifespan. But by giving primary teeth a second chance, their permanent successors will have a better chance of future good health.
If you would like more information on treating decay in primary teeth, please contact us or schedule an appointment for a consultation. You can also learn more about this topic by reading the Dear Doctor magazine article "Root Canal Treatment for Children's Teeth."