Posts for tag: orthodontic treatment
By Dentistry on University
May 13, 2017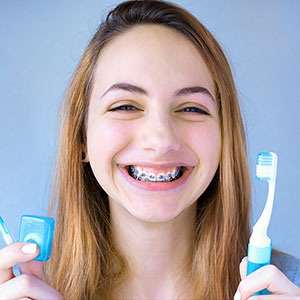 Wearing braces is all about the future: you undergo many months of treatment to gain a lifetime of better mouth function and a more attractive smile.
In the meantime, though, you'll have to deal with a few new realities during treatment: restrictions on foods, limitations with mouth function, and (perhaps) embarrassment over your new "metallic" smile.
There's one reality, though, that trumps all others in importance: your risk for developing dental disease increases significantly during orthodontic treatment. The brackets and wires of your braces make it more difficult to remove bacterial plaque, the main cause of dental disease, which allows places for disease-causing bacteria to thrive. To combat this, you'll need to step up your hygiene efforts to remove daily plaque.
One sign your efforts might not be getting the job done is red, swollen or bleeding gums. Although gums can swell in reaction to the braces themselves, it's often because plaque-induced periodontal (gum) disease has infected the gum tissues.
Gum disease is an aggressive infection. If it isn't stopped it can damage the gums and underlying bone that support your teeth — damage that could eventually lead to tooth loss. To stop it, we must remove plaque from all tooth and gum surfaces, even below the gum line. In some advanced cases it may even be necessary to remove the braces to better treat the disease.
That's why preventing gum disease through effective hygiene is so important. Besides continuing routine visits with your family dentist, you should also brush and floss every day to remove plaque. Be sure you're brushing above and below the braces. It may be helpful to use an interproximal brush specifically designed to maneuver around these tight spaces. You can also use a floss threader or a water irrigator to make the job of flossing easier.
If you do notice gum redness, swelling or bleeding, don't delay — call your dentist at once. An examination will determine if you have gum disease and to what degree, which will guide treatment. The sooner this happens, the less the impact on your dental health and your orthodontic treatment.
If you would like more information on dental care while wearing braces, please contact us or schedule an appointment for a consultation. You can also learn more about this topic by reading the Dear Doctor magazine article "Gum Swelling During Orthodontics."
By Dentistry on University
June 12, 2015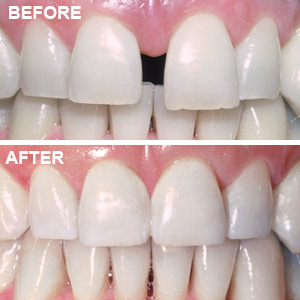 Moving A Few Teeth Can Have Big Results
Orthodontists are able to achieve attractive results with traditional braces moving several teeth into a better position. In a way, braces are the original "smile makeover."
Orthodontic Treatment for Movement
But orthodontic treatment can also be useful if only a few teeth (like the two upper front teeth) need to be moved slightly. A treatment known as minor tooth movement takes only a few months as opposed to years for traditional multiple teeth movement, and with removable appliances that may use small springs or elastics to place gentle pressure on teeth to move them.
A Tooth Movement Scenario
So, what constitutes a minor tooth movement scenario? As with any dental condition, the first step is a complete dental examination, particularly the bite. We also need to determine if enough room exists to close any space without compromising the bite with the opposing teeth, and if the teeth and their roots are in a good position to allow minor movement — otherwise, more extensive treatment may be called for. The surrounding gum tissues and bone also need to be healthy and disease-free, especially in adults.
Tooth Gaps
We may also need to look more closely at the actual cause for a front tooth gap. If the gap is the result of the tongue habitually pressing against the back of the teeth and pushing them forward, it may then be difficult or impossible to close the gap with minor tooth movement techniques. The cause may also originate from the frenum (a thin, muscular tissue that rises up from between the upper front teeth toward the lip) if it has extended too far between the teeth. In this case we may first need to surgically remove some of the frenum tissue before attempting orthodontics or the teeth may gradually move back apart after closing the gap.
Although minor tooth movement normally doesn't take as long as braces, it may still require several months. And just like with braces, you will need to wear a retainer for several months afterward until the bone stabilizes around the new position. Still, minor tooth movement could have a major impact on your smile.
Learn More on Moving Teeth
If you would like more information on orthodontic treatments, please contact us or schedule an appointment for a consultation. You can also learn more about this topic by reading the Dear Doctor magazine article "Minor Tooth Movement."